---
Problem Solving with the Eight Disciplines
A method for solving quality problems, known as the "Eight Disciplines".
By: Fernando Bernal | Miércoles 20 de Enero de 2016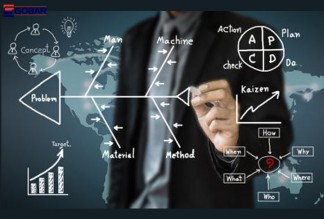 Many companies, and manufacturers in particular, encounter repeated problems with a product or service. Many times, these problems are reported from customers directly and can negatively impact brand loyalty and reputation. That's why a method for solving quality problems, known as the "Eight Disciplines", or 8D, was created to address issues with quality, remove root causes and prevent recurrence of the same or similar issues.

What is the Eight Disciplines Problem Solving Method?

Eight Disciplines is also known as team-oriented problem solving. The method was first developed by Ford Motor Company in the 1980s and is mainly used in processing industries by engineers and other professionals. This method, originally designed to address Ford's recurring engineering problems, bridges the gap between statistical process control and quality improvement. Eight Disciplines is an indispensable method of quality control and improvement of globalization, and it has become a major component of the automotive industry's QS9000 and ISO TS16949 quality standards. Ford and other automakers aren't the only companies that rely on the Eight Disciplines method of problem solving. Other manufacturers have also found the method to be a convenient and effective way to solve and prevent the recurrence of quality problems.

Why Implement Eight Disciplines?

The Eight Disciplines method can offer an effective solution to deal with quality problems, to further prevent the same and similar problems recurring and to improve product quality. 8D can ultimately improve customer satisfaction and enhance confidence in products and processes. Successful implementation of 8D relies on the establishment of group training, teamwork skills, individual improvement and the team's ability.

When to Use the Eight Disciplines Method?

Generally, we will use 8D to address the following:
• Repeated problems that have not been resolved
• More significant process quality problems; and
• Complaints from customers related to quality

The Eight Disciplines.

Discipline 1. Create a team
Discipline 2. Describe the problem
Discipline 3. Implement and verify containment action
Discipline 4. Identify the root cause
Discipline 5. Formulate and verify corrective actions
Discipline 6. Correct the problem and confirm the effects
Discipline 7. Prevent recurrence and standardization:
Discipline 8. Congratulate the team

Remember that a valid 8D report will enhance the quality of the products and give customers confidence, thus obtaining better customer satisfaction. Finally, when we receive customer complaints, we must follow the 8 steps above, implementing them step-by-step, and record the whole process and the results in the 8D report.